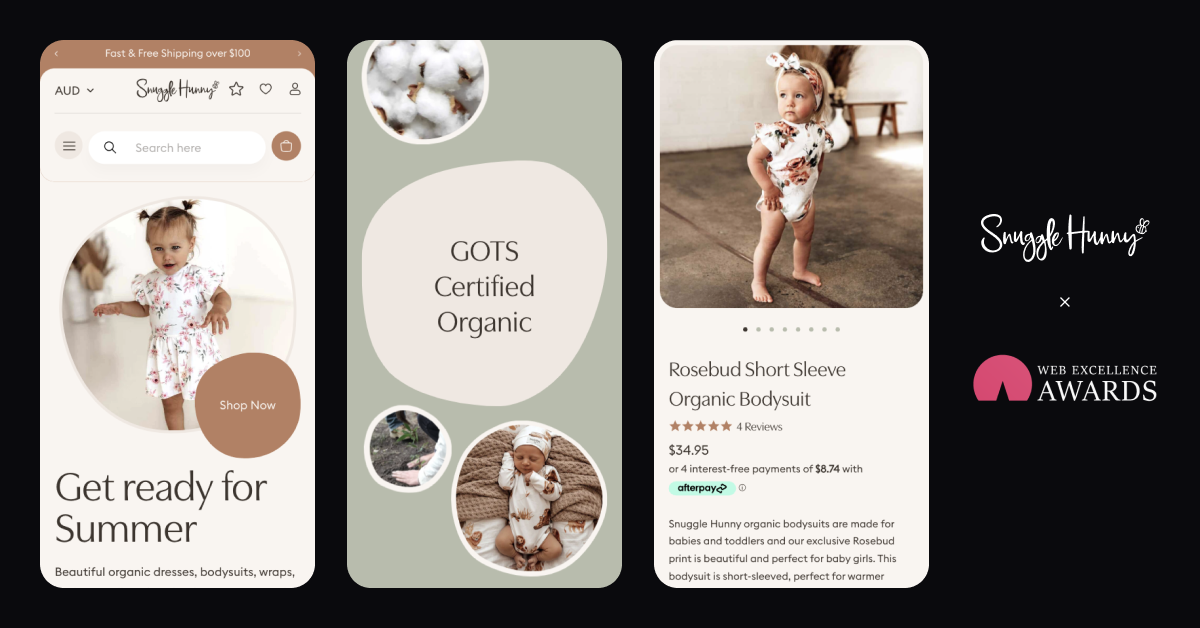 After launching another beautiful brand-new site, the team at Process are thrilled to share our recent award win in recognition of our partnership with Snuggle Hunny Kids (https://snugglehunnykids.com.au/). It's awesome to have our work acknowledged in The 10th season of the Web Excellence Awards - recognising work that embodies 'excellence on the web, showcasing exceptional abilities and accomplishments.'

Julie Mathers (CEO) and Tom Abraham (COO) are both well-known e-commerce industry veterans. Tom has featured in the top 50 people in ecommerce and Julie has ranked number one on multiple occasions. Needless to say, it was such an incredible experience working with them both — their vision and passion for the brand was inspiring. We're honoured that they trusted Process to realise this vision and bring the rebranded Snuggle Hunny site to life.
Our partnership with Snuggle Hunny was a journey that allowed us to showcase our expertise in UX/UI and highly customised Shopify web design. Snuggle Hunny is a brand known for its sustainable and adorable baby apparel, and we wanted their online presence to reflect these values in a highly competitive market.
One of the key challenges in the e-commerce landscape is standing out in a crowded market. During our comprehensive, strategy-focused, Discovery workshops we worked closely with the Snuggle Hunny team on how best to communicate the brand's story and showcase the product range to create an exceptional customer experience. It was critical that the site not only displayed its products beautifully but also conveyed Snuggle Hunny's commitment to inclusivity and sustainability throughout.
This vision was then coupled with Shopify Plus' advanced capabilities to ensure a functional site that loaded fast and struck the right balance in terms of storytelling and conversion-related objectives.
Our engineers mapped out a migration plan to transition from Nosto to Shopify Plus as well, so as to minimise disruption for customers around launch.
Innovative Features for Lasting Connections
Building lasting customer relationships and word of mouth is key in the children's apparel vertical so we introduced innovative features such as Snuggle Rewards and a Gift Registry. Snuggle Rewards incentivises loyalty with exclusive discounts, while the Gift Registry enhances the shopping experience for special occasions.
Efficient B2B Wholesale Store
Apart from the consumer-facing site, we developed a streamlined B2B wholesale store. Shopify's advanced new B2B capabilities enabled us to create an efficient and user-friendly platform for business partners, boosting transaction efficiency and expanding Snuggle Hunny's wholesale market reach.
Testimonial
"Huge thanks, and I can't stress this enough, to Process Creative. Andy Homan and his team are exceptional and we've had a blast - love their design and the way they approach a project like this. Nicole Loftus is the best PM I've worked with and absolutely dedicated any time of the day or night (apologies for our emails at unsociable hours). Alessio, Mark, and Josh thank you for helping us build something amazing." - Julie Mathews, CEO Snuggle Hunny
This award underscores our commitment to delivering exceptional online experiences for all our clients.